Searching Saturday is a weekly meme hosted by: The Night Is Dark and Full of Books where I search for a new-to-me book that fits the weekly topic provided at the host's site, and write a post about the books I found. It's an awesome way for discovering new books I wouldn't have even considered before!
This week's topic is "2017 Releases". Unless you want to feel overwhelmed and slightly paranoid in the face of hundreds of beautiful covers with intriguing synopsis and end up adding all of them to your TBR, you have to narrow down your search to a maximum of one major genre. And I'm not exaggerating, take my word on this one. So, here we go!

Note: Usually my search is affected by my mood, so don't be surprised if they all look similar. I can't help it. Sorry!

1) Empress of a Thousand Skies 

by

Rhoda Belleza
"Empress
Rhee, also known as Crown Princess Rhiannon Ta'an, is the sole surviving heir to a powerful dynasty. She'll stop at nothing to avenge her family and claim her throne.
Fugitive
Aly has risen above his war refugee origins to find fame as the dashing star of a DroneVision show. But when he's falsely accused of killing Rhee, he's forced to prove his innocence to save his reputation – and his life.
Madman
With planets on the brink of war, Rhee and Aly are thrown together to confront a ruthless evil that threatens the fate of the entire galaxy.
A saga of vengeance, warfare, and the true meaning of legacy." -Goodreads
-It has lots of high-rated reviews. It has an amazing cover. It has a captivating synopsis. What else could I be looking for?
 2) In a Perfect World 

by

Trish Doller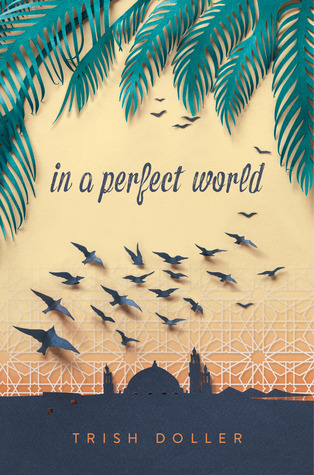 "Caroline Kelly is excited to be spending her summer vacation working at the local amusement park with her best friend, exploring weird Ohio with her boyfriend, and attending soccer camp with the hope she'll be her team's captain in the fall.
But when Caroline's mother is hired to open an eye clinic in Cairo, Egypt, Caroline's plans are upended. Caroline is now expected to spend her summer and her senior year in a foreign country, away from her friends, her home, and everything she's ever known.
With this move, Caroline predicts she'll spend her time navigating crowded streets, eating unfamiliar food, and having terrible bouts of homesickness. But what she finds instead is a culture that surprises her, a city that astounds her, and a charming, unpredictable boy who challenges everything she thought she knew about life, love, and privilege.
From critically acclaimed author Trish Doller comes an honest, hopeful, and romantic story about the barriers we tear down for the people and places we love most." -Goodreads
-Rarely does any book (other than Arabic ones, of course) focus on modern Egypt. The country and its people now, and not how it was thousands of years ago, the ancient Egyptians and the pyramids. I am curious as to how my country is portrayed in this book and what a foreign character thinks of it.
"In this modern-day love story, Girl likes Boy, Girl takes photo of Boy and posts it online, Boy becomes accidentally insta-famous. And what starts out as an innocent joke spirals into a whirlwind adventure that could change both their lives—and their hearts—forever. But are fame and love worth the price?
Told in alternating points of view, #famous captures the out-of-control thrill ride of falling for someone in front of everyone."    -Goodreads
-Again the potential of reviews appear here. The book seemed OK to me at first. But then I read the reviews and now I'm on bouncing off the walls for this book's release!
"Khosa is Given to the Sea, a girl born to be fed to the water, her flesh preventing a wave like the one that destroyed the Kingdom of Stille in days of old. But before she's allowed to dance – an uncontrollable twitching of the limbs that will carry her to the shore in a frenzy – she must produce an heir. Yet the thought of human touch sends shudders down her spine that not even the sound of the tide can match.
Vincent is third in line to inherit his throne, royalty in a kingdom where the old linger and the young inherit only boredom. When Khosa arrives without an heir he knows his father will ensure she fulfills her duty, at whatever cost. Torn between protecting the throne he will someday fill, and the girl whose fate is tied to its very existence, Vincent's loyalty is at odds with his heart.
Dara and Donil are the last of the Indiri, a native race whose dwindling magic grows weaker as the island country fades. Animals cease to bear young, creatures of the sea take to the land, and the Pietra – fierce fighters who destroyed the Indiri a generation before – are now marching from their stony shores for the twin's adopted homeland, Stille.
Witt leads the Pietra, their army the only family he has ever known. The stone shores harbor a secret, a growing threat that will envelop the entire land – and he will conquer every speck of soil to ensure the survival of his people.
The tides are turning in Stille, where royals scheme, Pietrans march, and the rising sea calls for its Given."   -Goodreads
-Looks like a new idea blooming in the middle of stereotypes. I would really appreciate a mysterious fantasy to get me out of my depressing reality this period.
"Today, he's a high school dropout with no future.
Tomorrow, he's a soldier in World War II.
Kale Jackson has spent years trying to control his time-traveling ability but hasn't had much luck. One day he lives in 1945, fighting in the war as a sharpshooter and helplessly watching soldiers—friends—die. Then the next day, he's back in the present, where WWII has bled into his modern life in the form of PTSD, straining his relationship with his father and the few friends he has left. Every day it becomes harder to hide his battle wounds, both physical and mental, from the past.
When the ex-girl-next-door, Harper, moves back to town, thoughts of what could be if only he had a normal life begin to haunt him. Harper reminds him of the person he was before the PTSD, which helps anchor him to the present. With practice, maybe Kale could remain in the present permanently and never step foot on a battlefield again. Maybe he can have the normal life he craves.
But then Harper finds Kale's name in a historical article—and he's listed as a casualty of the war. Kale knows now that he must learn to control his time-traveling ability to save himself and his chance at a life with Harper. Otherwise, he'll be killed in a time where he doesn't belong by a bullet that was never meant for him." -Goodreads
-If you know me, you'd know how I shy away from historical fiction. But… I'm ready to break the rule for this one. Also, who wouldn't want to read a book about time travel??
"Keira Braidwood lands in Paris with her autistic brother, Levi, and high hopes. Levi has just survived a suicide attempt and months in the psych ward—he's ready for a dose of the wider world. Unlike their helicopter mom and the doctors who hover over Levi, Keira doesn't think Levi's certifiable. He's just . . . quirky. Always has been.
Those quirks quickly begin to spoil the trip. Keira wants to traipse all over Europe; Levi barely wants to leave their grubby hotel room. She wants to dine on the world's cuisine; he only wants fast food. Levi is one giant temper tantrum, and Keira's ready to pull out her own hair.
She finally finds the adventure she craves in Gable, a hot Scottish bass player, but while Keira flirts in the Paris Catacombs, Levi's mental health breaks. He disappears from their hotel room and Keira realizes, too late, that her brother is sicker than she was willing to believe. To bring him home safe, Keira must tear down the wall that Levi's sickness and her own guilt have built between them." -Goodreads
-I think I should read more of books centered on mental illness. It's a great way to expand my knowledge and awareness of other people's suffering. The least I can do to them is to know about them.
Is any of those books already on your TBR? If not, are you going to add a one? Do tell in the comments below!